Thomas DuBose & Associates
We Are Proud to Announce the Opening of Our Gilbert, Arizona Office.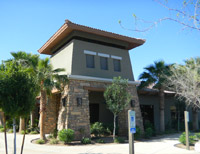 Thomas DuBose & Associates, Inc. has recently begun design and engineering services for several major projects in the Southwest Region. The Gilbert, AZ office demonstrates a commitment to the projects in and around this area and to the community at large.
The new office is nestled in the beautiful, Tuscan designed, Spectrum Falls Professional Park. Below are a few pictures of the new office.
New Office Images